This recipe is simple, VERY attractive and tastes every bit as good as it looks!!
Start by whisking together eggs and water.
Pour into a pan drizzled with olive oil on medium-low heat.
                           Stir with spatula until eggs are set up. Add salt and pepper.
Top with salsa, avocado and sour cream!!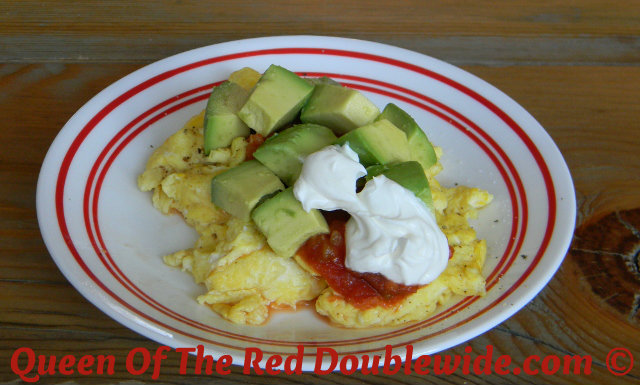 I told you it was attractive!!  Don't you just love those colors??
Here's a close up…..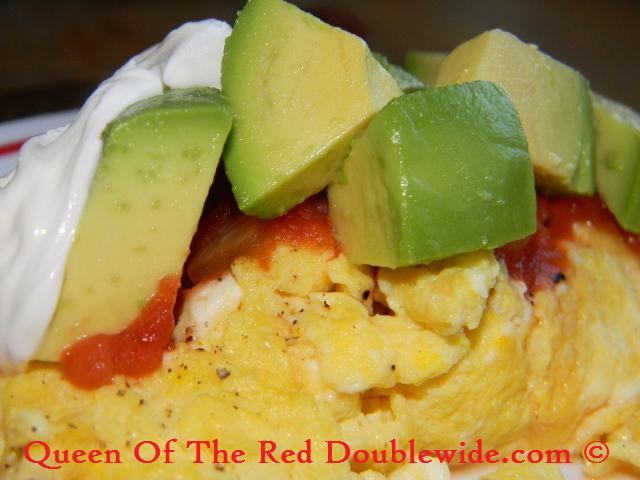 Oh yeah!!  That's what I'm talkin' 'bout!! Yummmmmmmmm!
Here's the printable version of the recipe:
Avocado Scramble
Author:
Queen Of The Red Doublewide
Ingredients
2 eggs
2 tablespoons water
salt and pepper to taste
2 tablespoons of your favorite salsa or Pico de Gallo would be yummy too
¼ of a large avocado
A dollop of sour cream
Instructions
Whisk together the eggs and water
Pour egg mixture into a pan drizzled with olive oil on medium-low heat
Use a spatula to stir eggs until done
Place eggs on a plate and add salt and pepper
Top with salsa, avocado, and sour cream