This has been my VERY best year for growing tomatoes!!  We are still getting an insane amount every day and it's the end of September.  I love how this recipe helps to use some of our abundance of grape tomatoes.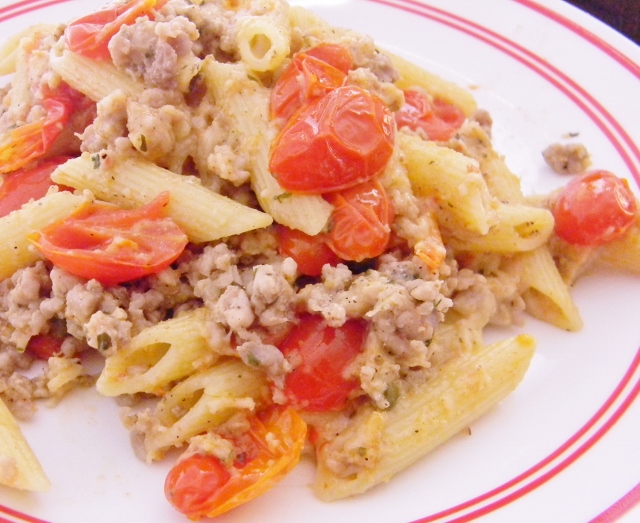 They are so fresh, sweet and absolutely delicious and they make this dish soooo very yummy.  I may have even eaten the left overs for breakfast the next morning.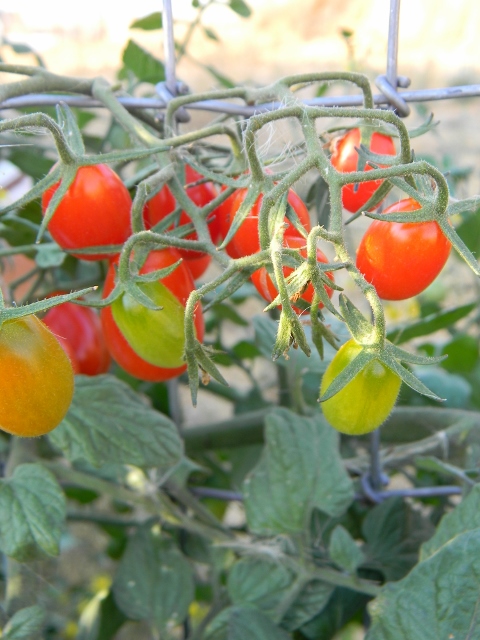 It doesn't take much time at all to whip up this super tasty dinner.  Start by halving 4 cups of grape or cherry tomatoes and putting them in a greased 8″x8″ baking dish.  Drizzle a little olive oil on with some salt and pepper, stir that up then poor 1/2 a cup of Italian bread crumbs over the top.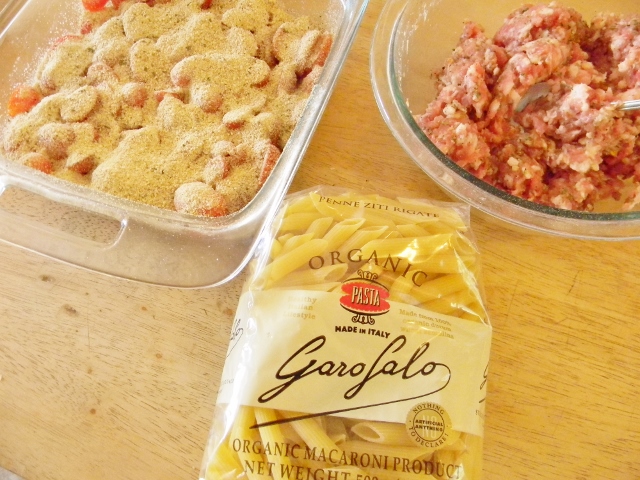 Place the tomatoes in the oven at 375 degrees for 30 to 35 minutes.  While that is in the oven, brown 1 pound of Italian sausage (I used my Italian sausage seasoning recipe) and cook the pasta.  Drain the sausage and pasta then put everything into a big serving bowl with 1&1/2 cups grated parmesan cheese.  Give it a good stir and taste it to see if it needs more salt or pepper.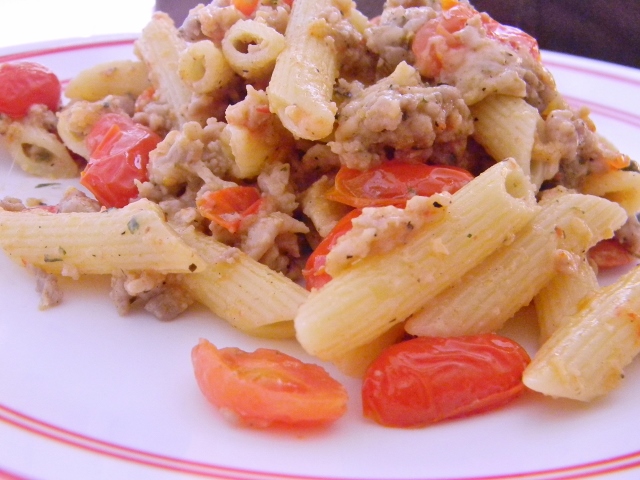 I know this isn't the most eye appealing dish you've ever seen, but it makes up for it in taste…..I promise!!

Fresh Tomato and Sausage Pasta
Author:
Queen Of The Red Doublewide
Ingredients
4 cups cherry or grape tomatoes - halved
1 tablespoon olive oil
½ teaspoon salt
¼ teaspoon ground pepper
½ cup Italian bread crumbs
1 pound of pasta (any kind you like)
1 pound ground Italian sausage
1½ cups parmesan cheese
Instructions
Preheat oven to 375 degrees.
Stir together halved tomatoes, olive oil, salt and pepper in a greased 8x8" glass baking dish.
Pour Italian bread crumbs over the top.
Place in the heated oven for 30 to 35 minutes.
While that is in the oven boil the pasta in salted water until done, and drain.
Brown the sausage and drain any fat.
In a large bowl combine the pasta, sausage, tomatoes and cheese.
Give it a taste and add salt or pepper if needed.
Dinners ready!
You can find a meat free version of this recipe
here
.
This post was shared at: Clever Chicks Blog Hop –