Here's another recipe to help use all those fresh eggs…well 3 recipes actually.  I love German Puff Pancakes, not just because they taste so good but because you mix up the batter,  throw it in the oven and 20 minutes later….VOILA!!  Everyone's breakfast is done at the same time and mom (or whoever is cooking) isn't still standing at the stove flipping pancakes while half of the family is finishing eating and the other half is waiting for seconds!!  Don't get me wrong, I love pancakes!!  I just like eating more than flipping. 😀  OK, I'm done whining now.
Start by preheating the oven to 400 degrees.
Put the butter into a 13X9 inch pan and put it in the oven to melt the butter.  Keep an eye on it and remove it when the butter is melted.
While the oven is heating and the butter is melting, put the remaining ingredients in a blender and blend until smooth.
Pour the batter from the blender over the melted butter and return the pan to the heated oven for 20 min.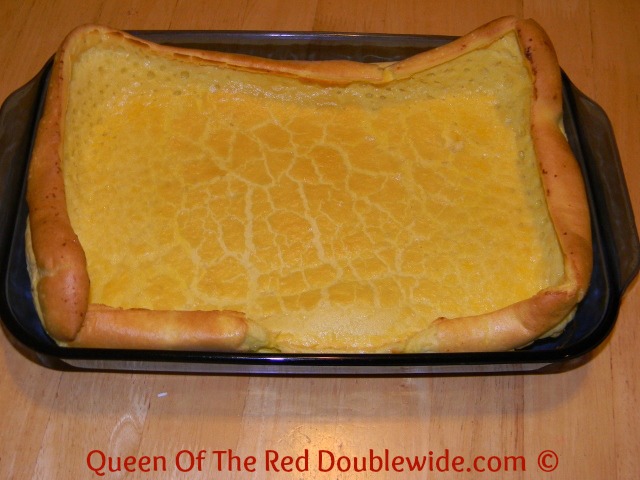 How fun is that!!  We top ours with butter and maple syrup or agave nectar.

German Puff Pancake
Author:
Queen Of The Red Doublewide
Ingredients
2 tablespoons butter
6 eggs
1 cup milk
1 cup flour
½ teaspoon salt
Instructions
Preheat oven to 400 degrees
Put the butter into a 13X9 inch baking pan and put it in the oven to melt.
As soon as the butter has melted remove it from the oven and swirl it around to coat the bottom of the pan.
Blend the remaining 4 ingredients in a blender until smooth.
Pour the batter over the melted butter.
Bake for 20 minutes.
Now another version:
German Sausage Puff Pancake
Follow the recipe above but sprinkle cooked sausage (I use 1 pound of breakfast sausage) over the batter in the pan just before baking.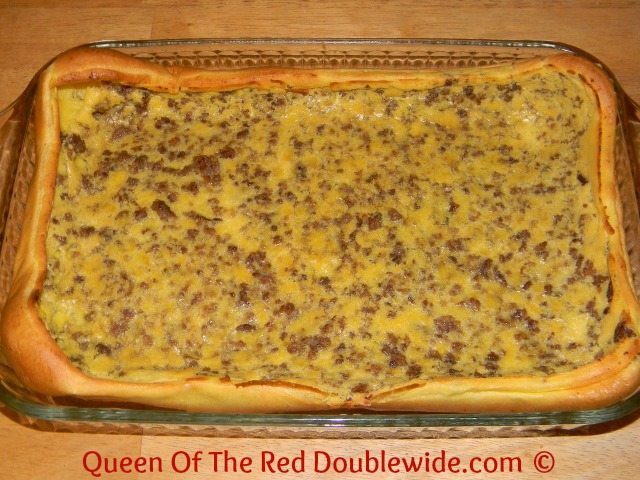 So I'm not sure if this is still a pancake?  Maybe more of a breakfast casserole?  Whatever it is, we usually eat it for dinner with salsa, sour cream, and cheese on top….TASTY!
And another version:
German Blueberry Puff Pancake
Follow the German Puff Pancake recipe above but before baking sprinkle 1 cup of frozen blueberries (fresh blueberries would work too) on top of the batter.  Serve with powdered sugar, or maple syrup.