It's that time of year again and I've been thinking about pumpkins a lot lately.  Mostly pumpkin desserts!  I've been a little obsessed with making my own spice blends, so what better blend for fall than pumpkin pie spice mix!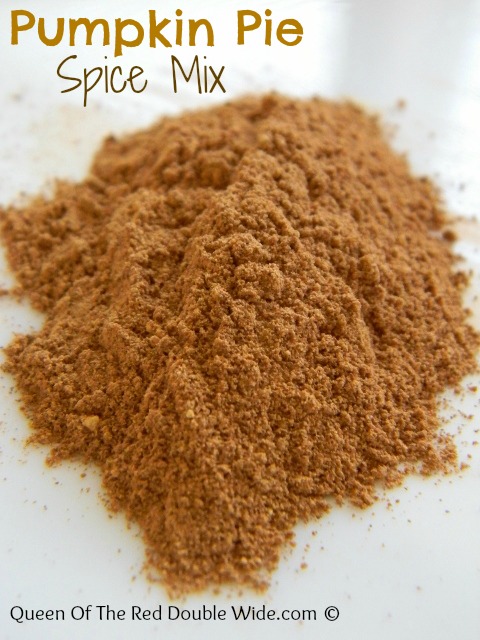 Maybe you already know exactly what you want to do with your pumpkin pie spice blend or maybe you need some ideas.  Of course you can make pumpkin pie…..but there are sooooooo many other yummy things to make with it.  I will have a few ideas and links at the bottom of this post, and in the next few weeks I will be posting some recipes using pumpkin pie spice.
Welcome to fall everyone!

Homemade Pumpkin Pie Spice Mix
This will make ½ of a cup of Pumpkin Pie Spice Mix
Author:
Queen Of The Red Doublewide
Ingredients
¼ cup ground cinnamon
2 tablespoons ginger
1 tablespoon nutmeg
1 tablespoon cloves
Instructions
Just put spices into a small container or jar and shake.
You can easily double this recipe if you plan on using LOTS or to just make one teaspoon worth.  Here are the measurements: 1/2 tsp. cinnamon – 1/4 tsp. ginger – 1/8 tsp. nutmeg – 1/8 tsp. cloves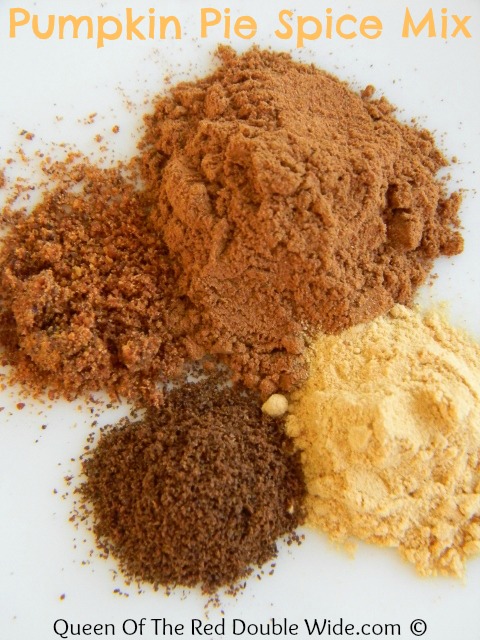 Now for some ideas on how to use your homemade pumpkin pie spice mix.  Here is a post from theKitchn.com that is called 7 ways to use pumpkin pie spice.  The one for pumpkin spiced popcorn sounds especially delicious!  Some other ideas are to add it to smoothies, oatmeal, vanilla yogurt, roasted pumpkins seeds, coffee, or fall cookies!  Anyone else have any ideas?
This post was shared at: Creative Wednesdays – Real Food Wednesdays – Make Bake Create – Down Home Blog Hop – The HomeAcre Hop – Krafty Inspiration Thursday – Frugal Days Sustainable Ways – Real Food Fridays – what i am eating – From The Farm Blog Hop – Weekend Potluck – The Creative Home and Garden Hop – Clever Chicks Blog Hop – Inspiration Mondays – All My Bloggy Friends – Healthy Tuesday Hop – Totally Tasty Tuesdays – Tuesday With a Twist – Mindful Mommy Monday Linkup – The HomeAcre Harvest Hop –