This post contains affiliate links.
Here at the Red Double Wide we go through at least three packets of ranch seasoning a week.  My eight year old thinks ranch dressing belongs on EVERYTHING!  The rest of us are pretty fond of it too, and I have allot of recipes that call for a packet of ranch dressing mix.  Every time I bought those envelopes of ranch mix, I would think, uggg that's expensive.  But we are pretty picky about ranch and that kind was our favorite, so I just kept buying it.  Then I looked at the list of ingredients…..What! MSG and all sorts of other junk.  I was so disappointed, and I just knew I could never make anything that came close to tasting like those handy little packets full of MSG. 🙁
But, I was WRONG…  Very WRONG!
I now make my own packets of chemical free ranch mix, and yes, it's even BETTER than the store bought mix.  Not to mention cheaper and of course healthier!  I mix up a bunch of these at once and then I have them on hand for dressing, dip, or to add to any recipe calling for a ranch seasoning packet.
This is what you need: Dried minced onion, dried parsley flakes, salt, ground pepper, and garlic powder.  I use little Rubber Maid containers, but a resealable snack bag works great too.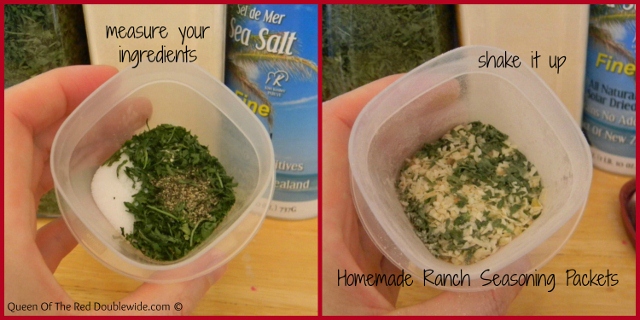 I have seen other homemade ranch recipes where you mix a big batch in a mason jar and then measure out what you need.  I did try that, but the salt and pepper was always at the bottom of the jar and the parsley at the top and no matter how much I stirred, the last batch in the jar was WAY saltier then the rest.  Maybe that's just me being picky, but I love these individual packets!

Homemade Ranch Seasoning Packets
This makes one packet of ranch seasoning.
Author:
Queen Of The Red Doublewide
Ingredients
1 heaping tablespoon of dried minced onions
2 teaspoons dried parsley flakes
11/2 teaspoons salt
¼ teaspoon ground pepper
¼ teaspoon garlic powder
Instructions
Combine all the ingredients and you're ready to make dressing or dip or add it to a recipe that calls for a packet of ranch seasoning.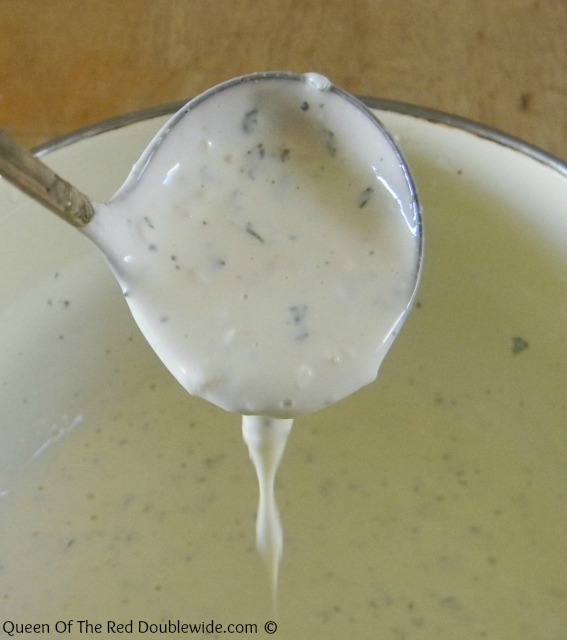 The more I cook from scratch the more I realize how fresh organic ingredients really do make a huge difference in the outcome of our food.  There is no doubt that it just tastes better and it makes me feel better to know exactly what I'm feeding my family.  I would love to say that my cupboard is stocked with organically grown herbs from my own garden, but lets face it, I'm not Super Woman!  I've been getting my organic herbs and spices from Mountain Rose Herbs for quite a while now and am soooo happy with their super fresh products.  This is a great company with a cool website, go check it out, you will not be disappointed!
To make ranch dressing: Add 1 homemade ranch seasoning packet to 1 cup of buttermilk and 1 cup of mayo.  Stir well with a whisk and refrigerate for a couple hours before serving.  If you don't have buttermilk , mix together 1 cup of milk and 1 tablespoon of lemon juice or vinegar and let it sit for 5 minutes, use that instead of the buttermilk.  (I have been meaning to try this with plain yogurt instead of mayo but haven't yet.  If you try, it let me know how it turns out!)
For ranch dip: Add 1 homemade ranch seasoning packet to a 16oz container of sour cream (2 cups) mix well and refrigerate for a couple hours before serving.
Hope you enjoy these as much as we do!!  Have a Blessed Day 😀