Our family has been a "biscuit from a can" kinda family for 11 years.  They are pretty good….well,  If you don't think about what a home made biscuit tastes like, and if you don't read the ingredients on the can.  Yep, I looked…..then, I said "yuck!"  Then I started experimenting.
This is what I came up with: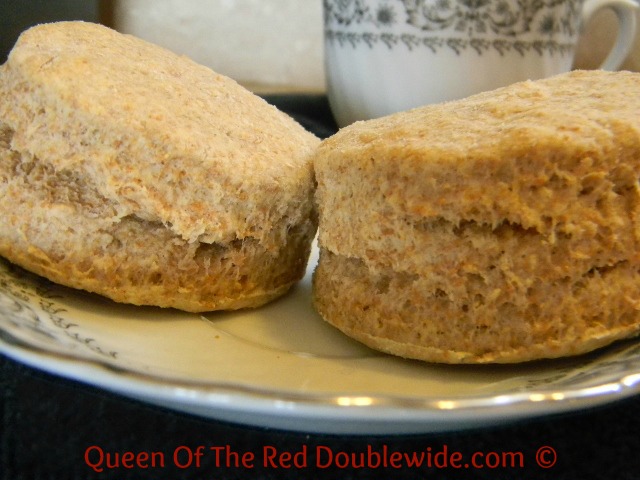 Light, Fluffy, Healthy, Yumminess!!
Start by stirring together the flour, baking powder, cream of tarter, and salt.
Then cut in the butter until crumbly. Here's a little tip…instead of standing at the counter (forever) with a fork to cut in the butter.  I put mine in my kitchen aid and let it mix for a minute (I cubed the butter first).  It worked l great, but be careful not to over mix!  Over mixing equals tough biscuits.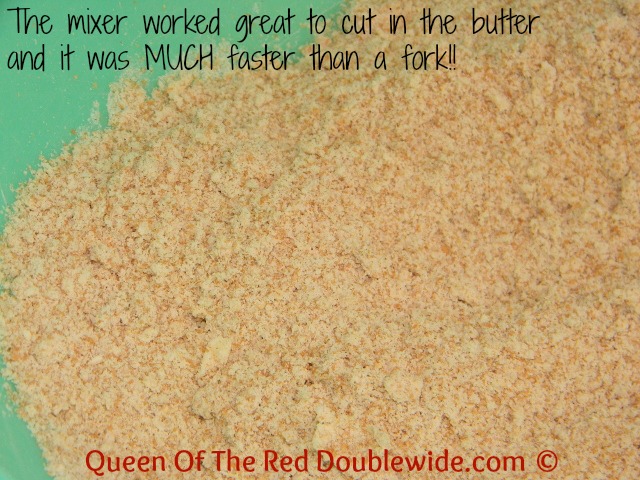 Combine the egg and milk; stir it into crumb mixture until moist.  Turn onto a floured surface and knead about 10 times.  Then roll out to 1/2 inch thickness and cut biscuits out with a cup or cookie cutter.
This is the fun part!
Bake at 450 degrees for 10 to 15 minutes.
This made about 16 biscuits.
No more biscuits from a can for us!!

Homemade Whole Wheat Biscuits
Author:
Queen Of The Red Doublewide
Ingredients
3 cups whole wheat flour
4½ teaspoons baking powder
¾ teaspoon cream of tarter
½ teaspoon sea salt
¾ cup cold butter
1 egg
1 cup milk
Instructions
Mix together first four ingredients then cut in butter until crumbly.
Combine the egg and milk; stir into crumb mixture until moistened.
Turn onto a floured surface; knead about 10 times then roll out to ½ inch thickness.
Cut out biscuits with a cup or a round cookie cutter and place on a baking sheet. Bake at 450 degrees for 10-15 minutes.