These might possibly be my favorite Christmas cookies.  They are so DELICIOUS but the best part is the absolutely wonderful aroma that fills my house while they cook.  A Christmas candle or Scentsy Pot can't even touch the Christmasy (is that a word?) smell from these cookies!  My sister told me about this recipe a few years back and I have made them every year since.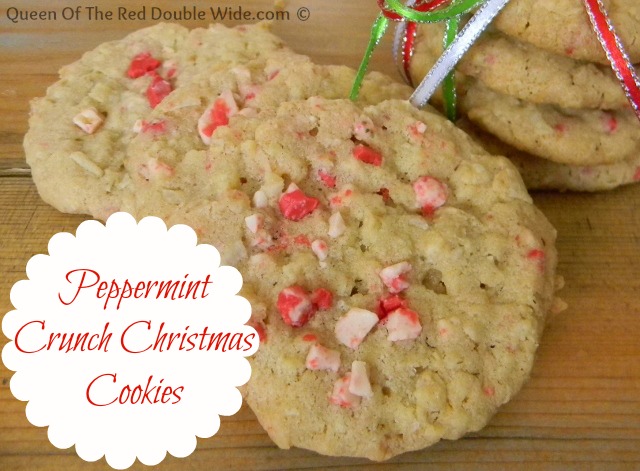 The secret to these amazing cookies is Andes Peppermint Crunch Baking Chips.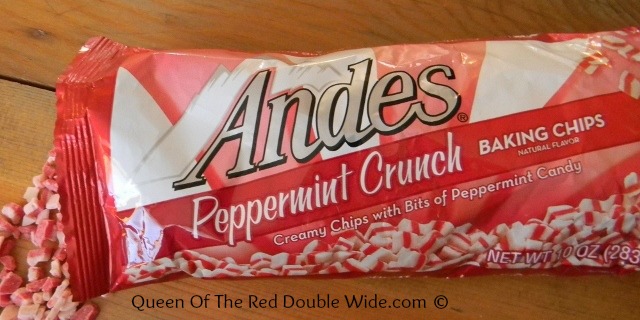 These things are creamy, melt in your mouth, goodness!  Add them into a cookie with oatmeal and coconut and…….WOW!  Or you could just upend the bag into your mouth, that would work too.

Peppermint Crunch Christmas Cookies
This makes about 30 cookies.
Author:
Queen Of The Red Doublewide
Ingredients
1 cup butter, softened
1 cup brown sugar, packed
⅓ cup granulated sugar
1 egg
2 teaspoon vanilla extract
½ teaspoon baking soda
½ teaspoon salt
1¾ cups all-purpose flour
1 cup oatmeal
1 cup sweetened grated coconut
1½ cups peppermint crunch baking chips
Instructions
Using an electric mixer, cream the butter, brown sugar, and granulated sugar.
Beat in the egg and vanilla extract.
On low speed, add baking soda, salt and flour. Mix completely.
Stir in oats, coconut, and peppermint chips.
Measure 1-2 Tablespoons (depending on how big you want them) of dough and place round balls on a cookie sheet, 2 inches apart.
Press lightly on each ball to flatten a little and sprinkle some of the remaining chips on top of each cookie.
Bake at 300 degrees for 10 to 15 min.
This made about 30 cookies.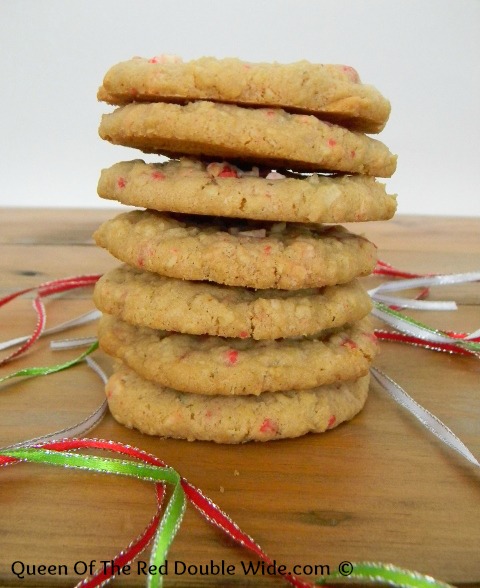 Note:  It is a little tricky to figure out when these are done.  I check on them at 10 minutes and don't take them out until they are a little brown around the edges.  After they come out of the oven if you let them rest on the cookie sheet for a few minutes they will stiffen up a bit and be much easier to lay on a cooling rack.
This recipe was adapted from tootsie.com.    I am in no way being compensated for saying these things about these baking chips, I just think they are delicious and Christmasy!