FAIR WEEK!  (An unexpected experience)
If you've been following along on our Cornish Cross raising adventure, brace yourself for an eventful week 7!  If you are new to our little adventure you might want to check out the first six weeks: week 1 – week 2 – week 3 – week 4 – week 5 – week 6
My girls ages 9 and 10 chose to take two of our Cornish Cross to the fair this year and sell them at the market livestock sale.  Our family has always shown and sold sheep, but with a lack of fencing and the fact that chickens are far less expensive to raise, we encouraged chickens this year…..a mistake??  Maybe….
Our 4-H leader, who knows WAY more about chickens than we do, advised that we pick a couple of our roosters to take to the fair because of their size.  So on Wednesday afternoon the girls each picked out a rooster and we set to work getting them cleaned up.  The girls also took two laying hens to the fair, which made a total of seven baths that afternoon…..four chicken baths then three people baths, getting chickens clean is a dirty job!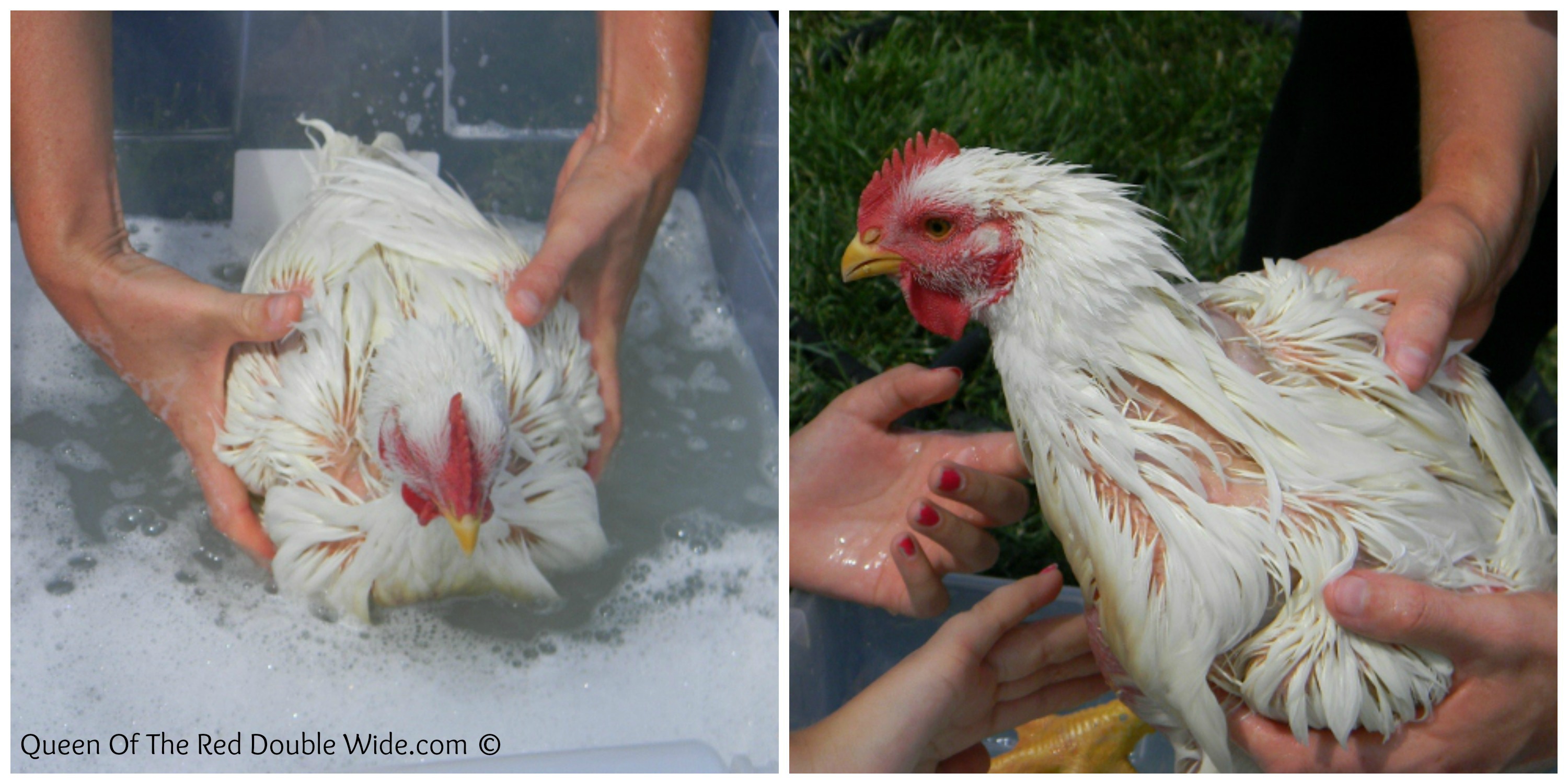 I was dreading this part, but other than a few soggy, soapy chicken wings slapping us in the face and one mom and two girls chasing a soaking wet hen around the yard……it went very well.  😀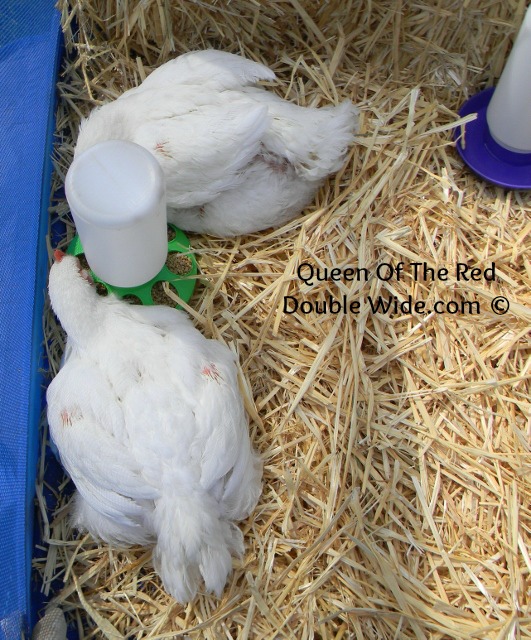 It was a nice, warm, day so it didn't take them long to dry off….and we were off to the fair!
Both Cornish Cross weighed in at 6.6 pounds (to sell they have to weigh between 4 and 7 pounds)  and after a vet check we settled them into their cages.  They were the only Cornish Cross in the barn…we live in a small county!  I noticed right away that they didn't really like walking on the wire cages, it was very different than our lawn.  The poultry barn was hot, and this breed doesn't do well in the heat.  They plopped down in their cages, spread their wings out away from their bodies and started panting. (this is normal; this is how they act when they are hot)  I was a little worried, but It was starting to cool off by then and I figured in a couple hours they would be fine….and they were.  The next morning they looked great and we kept an eye on them throughout the day.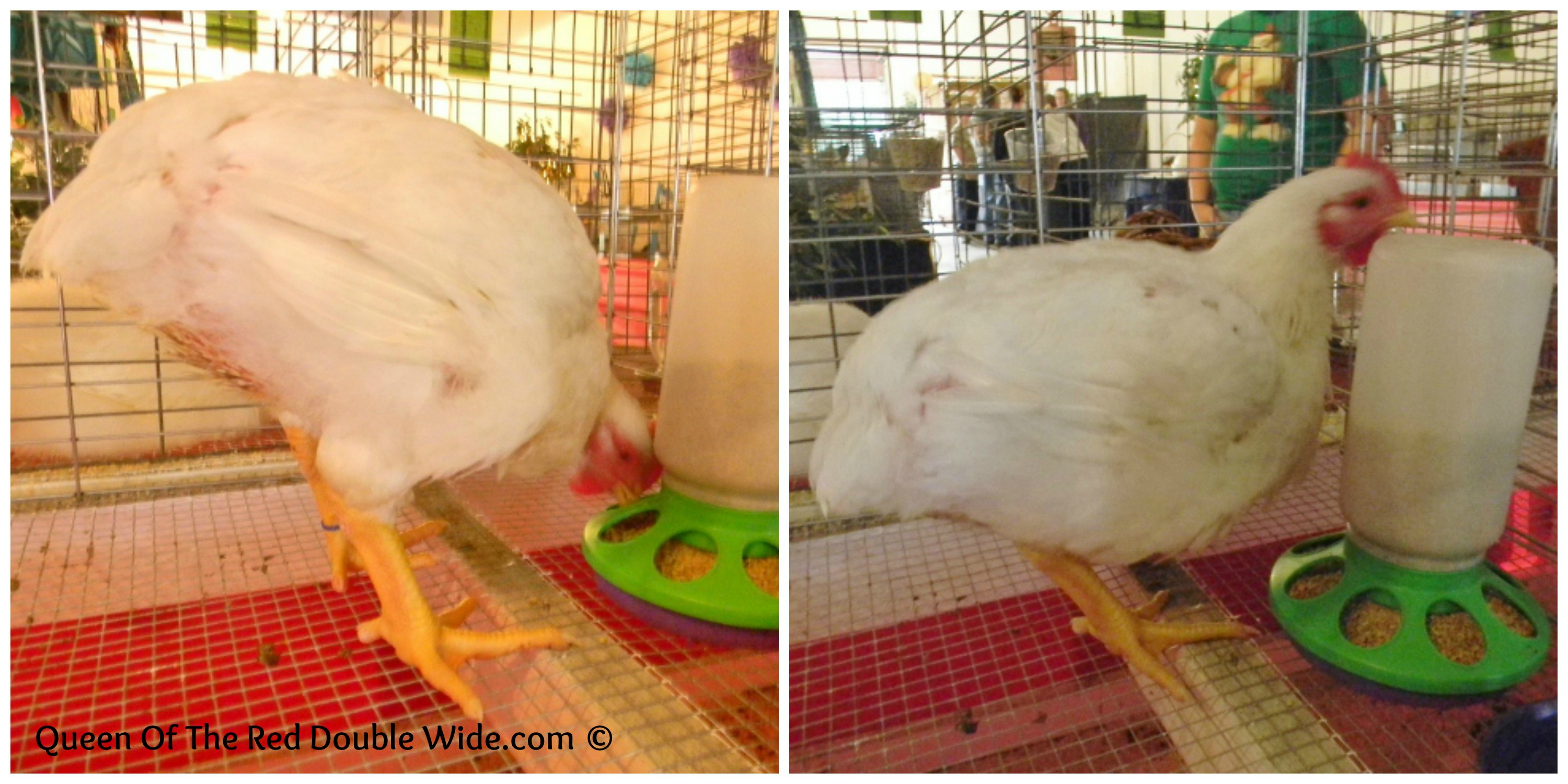 Thursday night I received a phone call that I was to immediately remove my daughters chickens from the fair grounds. The vet said they were sick and not going to make it through the night!   As I approached the barn I saw the vet outside and asked him what the problem was.  He said that our chickens had bloody wings, sores on their feet, their feathers were falling out, and they couldn't stand up!?!?!?!  My brief attempt at defending this breed and these birds in particular was oddly met with "I know, I know" and some reference to PETA.  In short the vet made it very clear that he had made a decision, it was his call, and the birds had to go.  Yes, I argued….no, I did not scream, yell, cuss, kick, bite, or hit, like I was tempted to do at that moment. (we're talking about some major restraint here folks)
I removed the chickens with tears in my eyes and two little girls full of questions I couldn't answer.  🙁
When we got home I took the kennel into the shop and opened the door.  Both chickens walked out and I began checking them over.  I had the Vetericyn out to spray any hurt wings or sores…..there was no need for Vetericyn.  I was relieved to not find any sores, but at the same time was very frustrated!

After we took some pictures we put the chickens back in the pen with the rest of the meat chickens.  The next morning, the chickens "that weren't going to make it through the night" were just fine.  When I opened the gate to give them breakfast they all ran to me. (Well, as well as Cornish Cross can run anyway)  In fact, four days later as I write this they are still fine!
By the time we got back to the fair grounds the next morning our 4-H leader had heard about what had happened,… and she was none to happy!!  We ended up filing a grievance with the fair board and attending a board meeting on Saturday morning. (This filled me with some measure of anxiety by the way, I am not one for confrontation)  The board was very kind to listen to our complaint.  I stated that I believed the whole situation was handled poorly and I didn't want this to happen to more kids in the future.  They said that everyone needs more education about this hybrid chicken, and market chickens should have cages on the floor so they don't have to walk on wire mesh.
I agree with the board that more education is needed,(like how to tell an ugly, hot chicken apart from a sick or injured chicken) and maybe some misconceptions about this bird can get cleared up. (at least at our little county fair)  I intend on writing several more posts about Cornish Cross and we will be making several educational posters to hang up at the fair next year….. whether we enter Cornish Cross or not.  The fair was not a total bust, the girls had tons of fun showing their hens and hanging out with friends.  They are already talking about next year. 😀
Next week I will share about our last week and our very first butchering day.
I want to say thank you, thank you, thank you to our wonderful 4-H leader Linda.  She was so much help in our meat chicken raising experience and is always available to answer our questions.  She helped with 4-H books, the fair entry process, and when things got crazy at the fair, she stood by us, helped with the grievance process, and even went to the board meeting with us.  Linda….YOU ROCK!!!!  😀  
Here is a link to Week 8 – Butchering day