This post contains affiliate links.
I used to go through LOTS of store bought onion soup mix packets.  I would buy them in bulk and put them in tons of stuff like tater tot casserole, hamburger patties, on pot roast or oven roasted potatoes…..the list goes on.  Then I became more aware of what I feed my family and I started reading labels…… 🙁  Sadly, I stopped buying them and for a long time we just did without.  Then I found this recipe and now I just make up several "packets" at a time!  This way I have them on hand to use anytime my little heart desires……which is often,… VERY often. 😀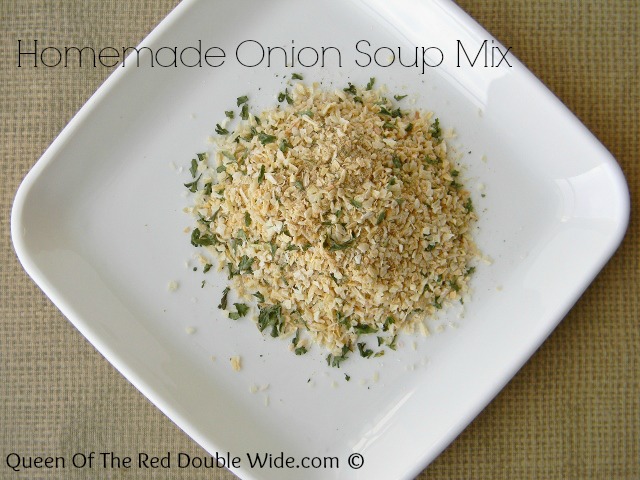 This is super easy, but there are lots of spices to get out and measure, so if you're in a hurry it can be a little frustrating…especially if you're used to ripping open a little envelope and dumping it in.  That being said I recommend while you have the spices out, make up several batches. 🙂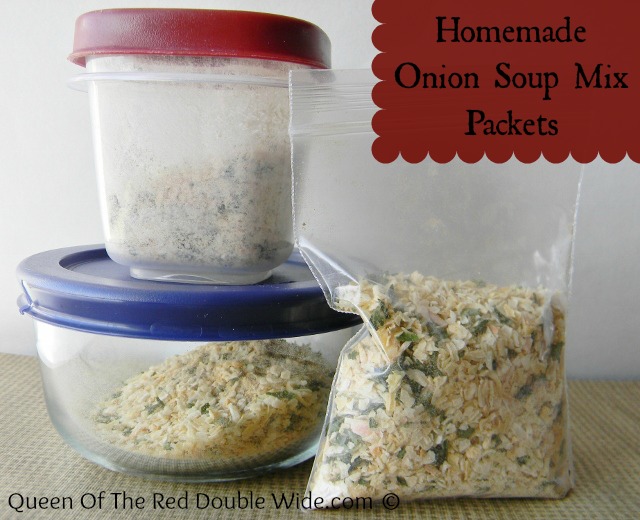 Homemade Onion Soup Mix Packets
This will make one "packet" of onion soup mix.
Author:
Queen Of The Red Doublewide
Ingredients
3 tablespoons dried minced onion
1 teaspoon parsley flakes
½ teaspoon onion powder
½ teaspoon turmeric
½ teaspoon salt
¼ teaspoon celery salt
¼ teaspoon sugar
¼ teaspoon ground pepper
⅛ teaspoon garlic powder
Instructions
Place all ingredients into a small resealable container or bag and shake.
That's it, onion soup mix packets without MSG!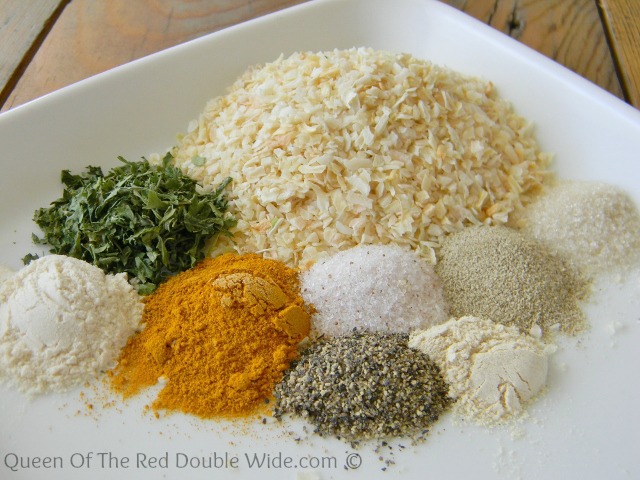 I get my super fresh organic herbs and spices from Mountain Rose Herbs.  They will make your from scratch cooking taste even better!!  Mountain Rose Herbs is a great company with a cool web site.  Go check it out, you will not be disappointed. 😀
This recipe was adapted from Laura at Heavenly Homemakers
This post was shared at : Clever Chicks Blog Hop – Homemade Mondays – Meal Planning Monday – Homestead Barn Hop – The Backyard Farming Connection – Real Food Wednesdays – The Homemaking Party – The HomeAcre Hop – Thrifty Thursday – Weekend Potluck – From The Farm Blog Hop – Real Food Friday – Simple Saturdays –