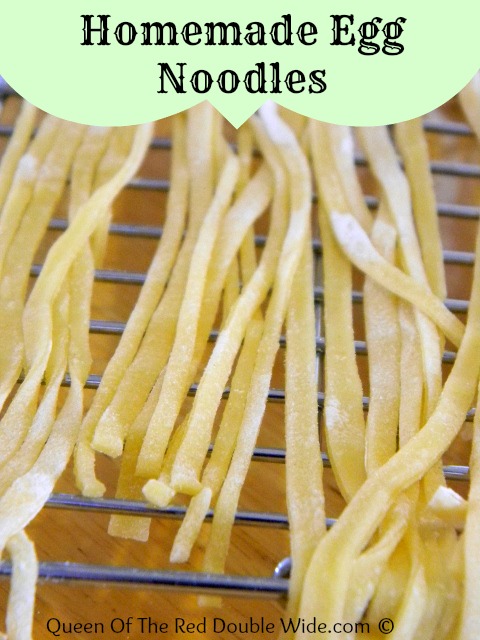 I had never thought of making my own noodles until we got chickens.  Once all seventeen  ladies started laying, anything with the word "egg" in it caught my attention, so I decided to give egg noodles a try.  I'm so glad I did because they are DELICIOUS and fun to make.  My girls love to help make them, and noodles are surprisingly forgiving.  You really can't mess them up.  🙂
If you have fancy equipment like a food processor and or a pasta maker, please feel free to utilize them and make your noodle making experience a little easier.  I don't have either one of those things….. and that's where kids come in handy.
Put a cup of all purpose flour in a mixing bowl and add 2 eggs with 1/4 teaspoon of salt.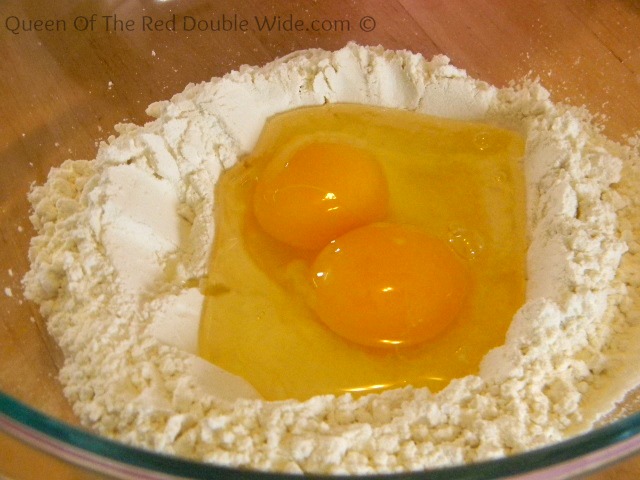 Stir until you have a sticky clump of dough, then turn it out on a well floured surface.  Knead the dough until its smooth and no longer sticky or clumpy.  You will need to add flour as you knead to keep it from sticking to the table and your hands.  (Okay, I know that's bad, but I couldn't resist!)  The amount of flour you add will depend on how big your eggs were.  If you get too much flour and it gets too dry just add a little water.  Like I said, it's forgiving….just keep kneading and adding until you have a nice smooth dough.  When you have achieved a nice smooth unstickyness, put the dough into a plastic bag and let it rest for about 15 minutes.
After it has had a rest, sprinkle flour on the table, the dough, and the rolling pin.  You don't want it sticking to anything.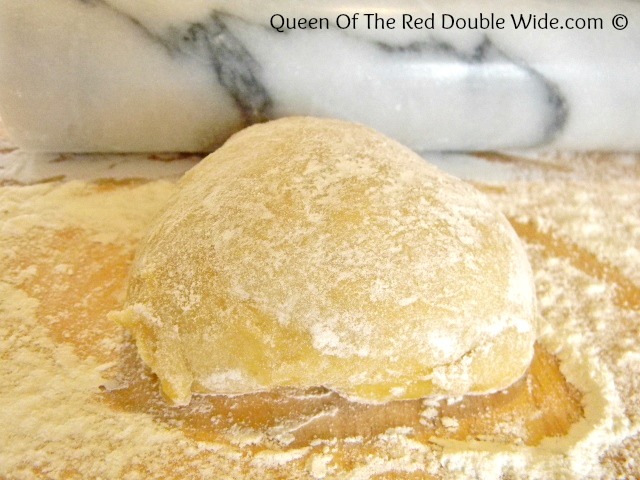 Roll the dough out very thin.  The noodles will puff up when you cook them, so the thinner the better.  Cut the dough into strips with a knife or a pizza cutter.  You can make long skinny noodles, short fat noodles, or any size in between.  What kind you make will depend on what you are going to use them for.  If the kids are "helping", you will end up with an interesting variety of shapes and sizes!  It's all good, cuz it all eats good! 😀
You can cook them right away in boiling salt water, or by adding them to a simmering pot of soup.  They will only take a couple minutes to cook, so keep your eye on them.  You can also put them on a cooling rack to dry.  It will take two to several hours to dry depending on how thick they are.  When they are COMPLETELY dried, store them in a bag or a jar for up to a month.

Homemade Egg Noodles
Author:
Queen Of The Red Doublewide
Ingredients
1 cup of flour
2 eggs
¼ teaspoon salt
Instructions
Put all the ingredients into a bowl and stir until it all comes together, it will be sticky and lumpy.
Turn the dough out on a well floured surface, knead and add flour until you have a nice smooth dough that is not sticky. If you get to much flour just add a little water until you get it right.
When you have the right consistency put the dough in a plastic bag and let it rest for about 15 minutes.
Place the dough on a well floured surface and sprinkle flour on the dough and rolling pin.
Roll dough out very thin and cut into noodles with a knife or pizza cutter.
You can cook them right away in boiling salt water or dry them completely and store for up to a month.
This post was shared at: Clever Chicks Blog Hop – The Homestead Barn Hop – Homemade Mondays – The Backyard Farming Connection – Tuesday With a Twist – The HomeAcre Hop – Thrifty Thursdays – Frugal Days Sustainable Ways – Weekend Potluck – Simple Saturdays – Simple Living Saturdays –