My cute little niece turned 2 a couple weeks ago and my daughter (age ten) begged and begged to make her a layered cake.  She had gone to a hands-on 4-H demonstration on "How to Decorate a Cake" and was just itching to put her new skills to work. 🙂  So we invited the birthday girl (and her family) over for homemade pizza and cake.  I was a little leery of giving the 10, 8, 4, and 2 year olds layers and layers of sugar at 7 o'clock at night, (or any time of day) so I started to scheme……
At the time I was working on my post for "Homemade Honey Whipped Cream Cheese" and I thought, why not put a twist on that recipe and add raspberry jam to the cream cheese instead of honey?  It worked!  In fact, it was a HUGE success.  It was creamy, spreadable, sweet, (but not to sweet) rich, sugar free, and the best part…..it was PINK!!  Well that's the best part if you're a 2-10 year old girl. 😀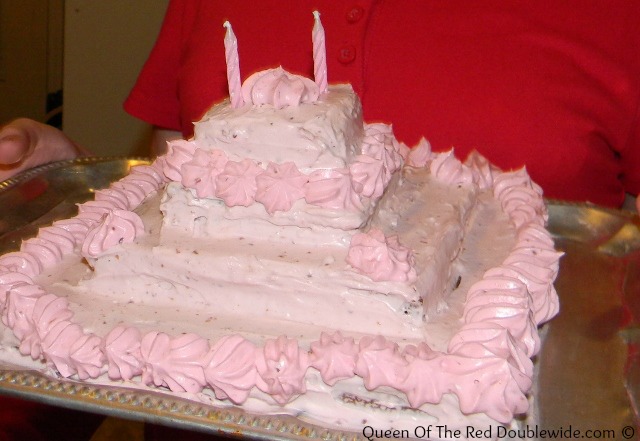 By the time she got done decorating this cake she decided she wanted to be a "professional cake decorator" when she grows up.  I think she's off to a good start; don't you!?
Here's how to make fruit sweetened frosting: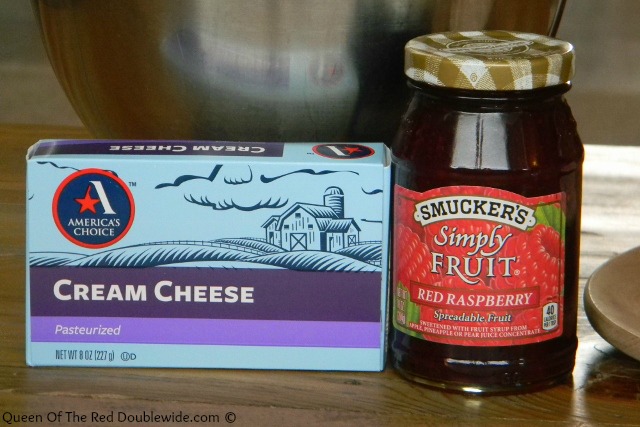 Take an 8 ounce package of softened cream cheese and whisk it until it's nice and smooth.  Then add 1/2 a cup of jam. I used Smuckers Simply Fruit Red Raspberry Jam…..it is sweetened with fruit juice with no added sugar or nasty high fructose corn syrup.  If you have your own homemade preserves that would be even better!!  I have only used raspberry jam so far, but I think any flavor would be delicious. Whisk the jam into the cream cheese until smooth and fluffy, it takes a couple minutes to get all the cream cheese lumps out.  We added a couple drops of red food coloring to make it a little pinker for the birthday girl.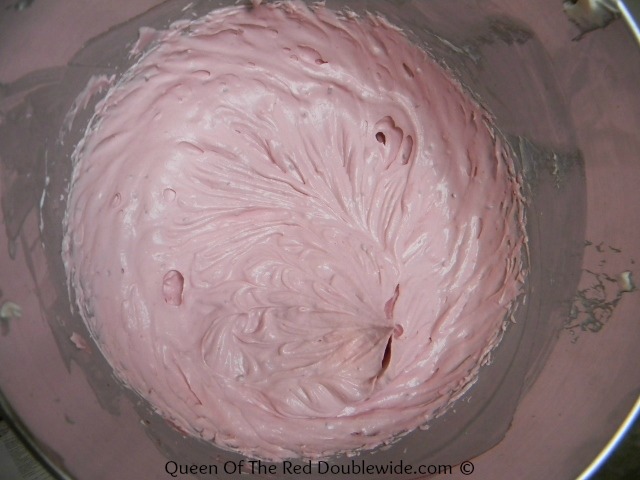 Now spread it (the thicker the better) on your favorite cake.  I can't even describe to you how good this was smothered on the Pioneer Woman's Chocolate Sheet Cake!  Kids can't get enough of this stuff, but the best part is all the adults who don't even like sweet things that come back for seconds and they can't believe how simple it is to make! (No more piles of frosting on the edge of the plate after birthday parties!!!)  We've made this three times in the last two weeks and I plan on making it again to go with Easter dinner!

Homemade Fruit Sweetened Frosting
Author:
Queen Of The Red Doublewide
Ingredients
1 - 8oz package of cream cheese, softened
½ cup no sugar added jam/jelly
Instructions
Whip softened cream cheese in a mixer until smooth.
Add half a cup of jam or jelly and whip until smooth and fluffy. This will take a couple minutes.
Spread on your favorite cake or cupcakes.
Note: If you're planning to get fancy with the decorating or if you're frosting a sheet cake you will need to double the recipe.