These are beyond a shadow of a doubt the BEST peanut butter cookies I've ever had!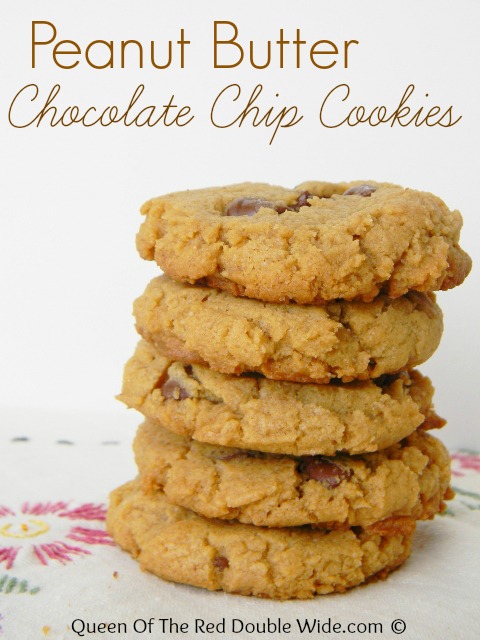 I cannot take credit for finding this recipe, it was all my kids.  It all started with this: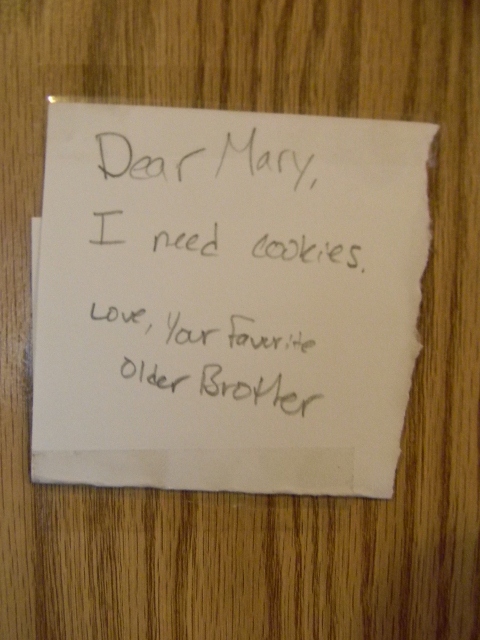 My boys are smart, when they want cookies they know who to ask.  The next thing I know, Little Chef is asking if I will show her how to look up cookies on Pinterest.  She wanted to  find a "new" recipe.  I did, and just like her mama, Pinterest sucked her in and she was there forever looking through thousands of pins of delicious looking cookies.  I think her brother became worried that cookies were never going to become a reality.  I heard him say something about peanut butter and chocolate chips and bless her cookie lovin' heart she searched for peanut butter chocolate chip cookies and decided on this recipe.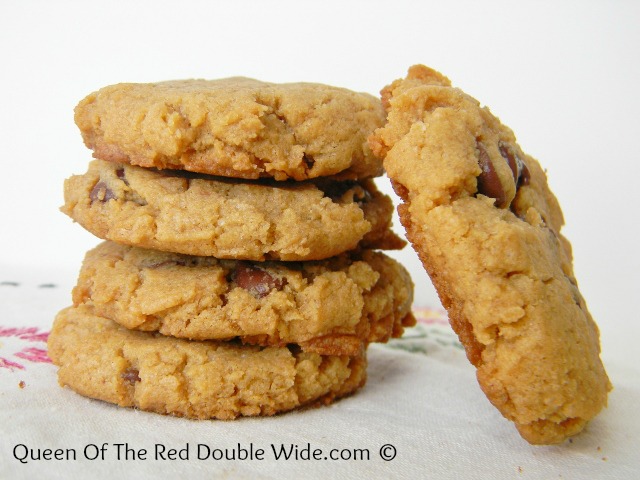 A little while later I walked through the kitchen and stole a chunk of warm cookie (it was a broken piece and NEEDED to be eaten)……as the sweet, buttery, chocolaty, warm, piece of cookie melted in my mouth.  The clouds parted,  the sun shone through, the angels sang and my taste buds rejoiced.  I think I said something like "Holy cow, those are stinking amazing,  I'm NEVER going to be able to stay away from these cookies."  I really didn't need to worry about that though, they were completely devoured shortly after that by other members of our household.
Here's the recipe so you can hear the angels too!
Peanut Butter Chocolate Chip Cookies
Author:
Queen Of The Red Doublewide adapted this recipe from Mel's Kitchen Cafe
Ingredients
1 cup butter at room temperature
2 cups creamy peanut butter
1 cup brown sugar
1 cup granulated sugar
2 eggs
2 tablespoons of milk
1½ teaspoons vanilla extract
2½ cups all-purpose flour
1½ teaspoons baking soda
1 teaspoon baking powder
½ teaspoon salt
1 cup chocolate chips
Instructions
In a mixing bowl beat together the butter and peanut butter until light and fluffy. Add the sugars and mix well then add the eggs and mix well again. Next add the milk and vanilla stir well. Measure all the dry ingredients into a separate bowl and then add to the peanut butter mixture. Stir just a bit and then add chocolate chips and stir until everything is combined. Let the cookie dough sit for a few minutes to firm up. Preheat oven to 350 degrees. Scoop 1 or 2 tablespoons of cookie dough onto a parchment lined baking sheet a couple inches apart and bake for about 10 minutes. They will look a little under done. If you leave them on the cookie sheet for a couple minutes they will be much easier to remove to a cooling rack.
Tip: These are amazing cookies anytime but if you want to see the clouds part and hear the angels sing you have to try them when they are still warm. 🙂  The only small draw back to these cookies is that they are pretty delicate, I would not recommend these for baking and shipping in the mail…..they would be awfully tasty crumbs though!
This recipe was adapted from Mel's Kitchen Cafe
This post was shared at : Weekend Potluck – Clever Chicks Blog Hop – HomeAcre Hop – From The Farm Blog Hop –