With all the egg recipes I've posted you would think I'd have shared a deviled egg recipe a long time ago.  The truth is, I never had a recipe before; I just kind of added whatever, and then a little more of whatever until it tasted good.  So I decided I needed to take the time and measure everything so I could share the recipe.  Little Chef wanted to help as usual, so I let her peel the eggs.  While she was doing this I left the kitchen for another chore.  When I returned she already had them peeled, washed, cut in half, the yolks were mashed up, and most of the ingredients were in the bowl.  When I told her I had wanted to measure the ingredients, she looked at me like I was from Mars.  So I explained that I wanted to share the recipe as a blog post.  She rolled her eyes…..that happens A LOT since she turned eleven last month.  It seems the older she gets, the more ridiculous I get.  Anyway, I decided to just look in the bowl and "guess" at how much of what she had put in and go from there.  Her eggs turned out VERY yummy, so I was hoping I had "guessed" correctly.  The next weekend I made the eggs again using the "new recipe" and took pictures along the way. They tasted just like Little Chefs yummy eggs!  Maybe I should have called these "Little Chefs Sweet Relish Deviled Eggs"?  Maybe not,… I don't need the eye roller getting a big head or anything.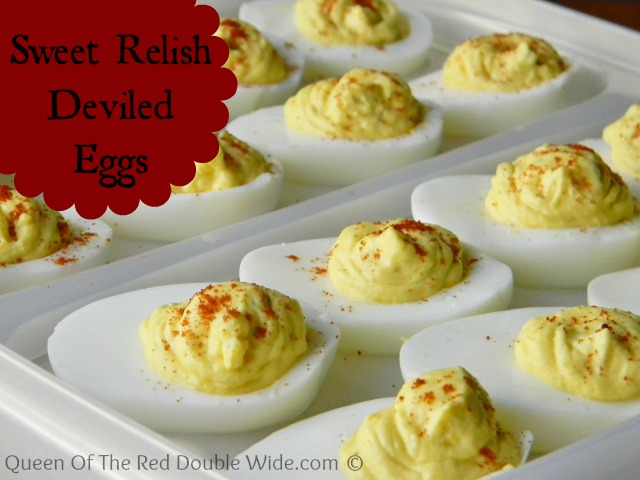 Start off by hard boiling a dozen eggs.  Here is my tip on how to boil and EASILY peel farm fresh eggs.  It's a life saver if you have very fresh eggs and you don't want them mutilated when you peel them.  After you have peeled the eggs, wash them, cut them in half and place the yolks into a bowl.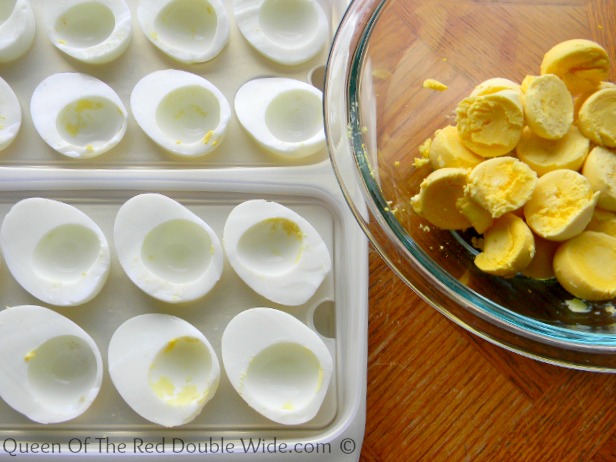 Mash the yolks with a fork, add the rest of the ingredients and stir well.  Then taste it….salt?…pepper?…more relish?  It's all up to you!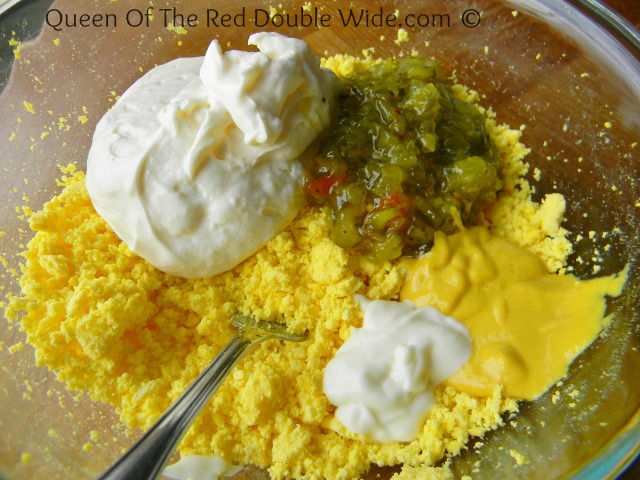 This came out a little lumpy, so I used the immersion blender on it for a few seconds. (Love that thing!)
After it's all mixed up, spoon the filling into a plastic bag, seal the bag, cut a small hole in the bottom corner, and squeeze the yolk filling through the hole into the empty egg whites.  For years I would carefully spoon the filling into each egg, the plastic bag method is WAY faster, and much more fun!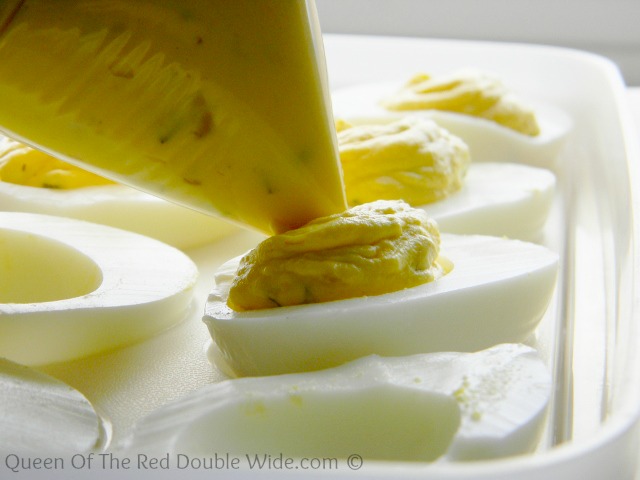 Sprinkle a little paprika on top and you're done!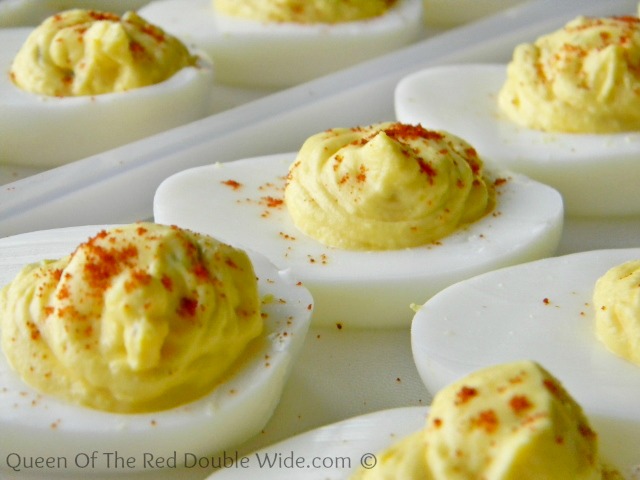 Here's Little Chefs recipe for delicious "Sweet Relish Deviled Eggs":

Sweet Relish Deviled Eggs
Makes 24 deviled eggs.
Author:
Queen Of The Red Double Wide / Little Chef
Ingredients
1 dozen hard boiled eggs peeled
½ cup mayo
¼ cup sweet relish
1 tablespoon mustard
2 teaspoons horseradish sauce
salt and pepper to taste
paprika for sprinkling
Instructions
Cut your peeled hard boiled eggs in half length wise.
Place the egg whites on a tray and the yolks in a mixing bowl.
Smash the eggs yolks with a fork.
Add the first 5 ingredients to the yolks and stir.
If it's to lumpy for your liking you can use an immersion blender to make it a little smoother.
Do a taste test and add salt and pepper if needed.
Spoon the filling into the egg whites or use a plastic bag as described above.
Sprinkle each egg with a little paprika.
This post was shared at: The HomeAcre Hop – Thrifty Thursday  – Frugal Days Sustainable Ways –  Weekend Potluck – Foodie Friday – Homemade Mondays – Clever Chicks Blog Hop – The Homestead Barn Hop – Meal Planning Monday – Tuesday With a Twist – The Backyard Farming Connection –