This post contains affiliate links.
Here is the onion ring recipe I promised over a month ago!!
I don't think I need to say much about these lovely golden treats, the pictures say it all!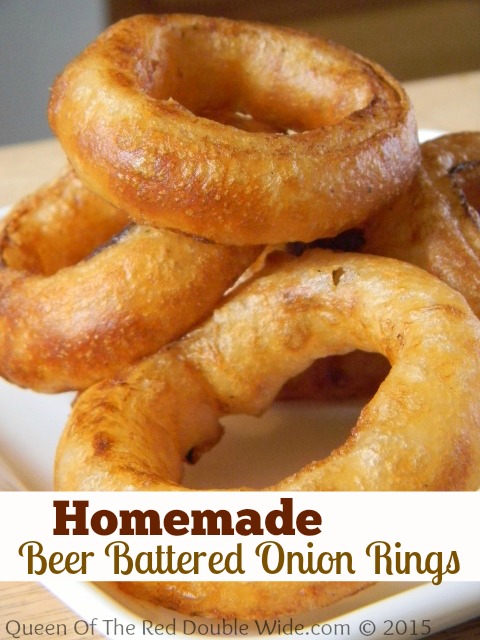 You will need one large yellow onion sliced into rings.  How big or little they are depends on your preference.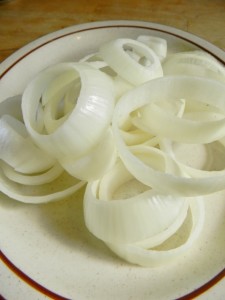 For the beer batter, start with one cup of beer.  What kind?  Well, that's a matter of opinion too… I used the cheap stuff cause that's what we had. 🙂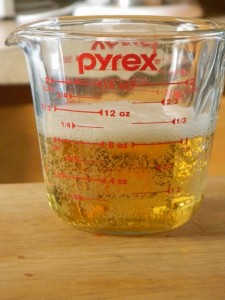 Add one cup of all purpose flour to the beer and stir until nice and smooth.  Then add in 2 teaspoons of seasoning salt and mix well.  Here's a link to my Homemade Seasoning Salt.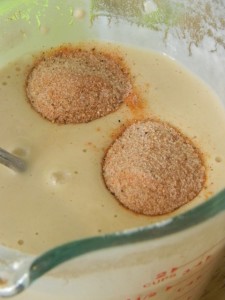 I heat about 2 inches of oil (look at the bottom of this post to see what oil I use and why) in a cast iron pan to 375 degrees on medium high heat.  If you don't have a cast iron pan I think any pan big enough will work, or better yet you can use a deep fat fryer if you have one.  Dip the onions into the batter and fry them until golden brown on each side.  Drain on a paper towel until cool.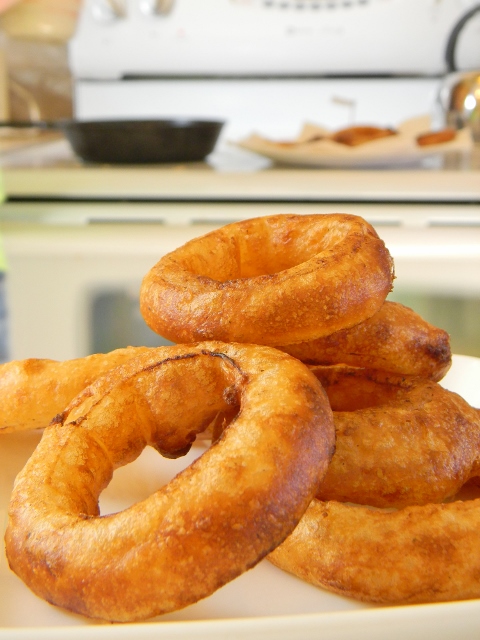 They are best eaten as soon as they are cool enough to stuff in your mouth.  If they sit too long they get kinda soggy.  Around here that is not a problem!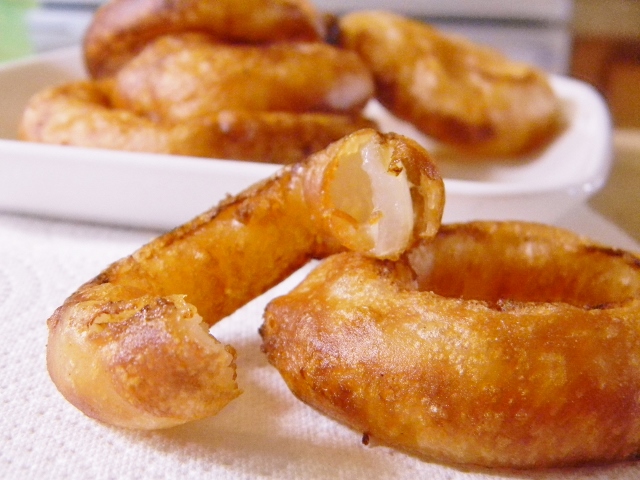 Homemade Beer Battered Onion Rings
Author:
Queen Of The Red Doublewide
Ingredients
1 large yellow onion
1 cup of beer
1 cup of flour
2 teaspoons seasoning salt
oil for frying
Instructions
Peel the onion and cut it into rings.(set aside)
Batter: Stir the beer and flour together until it's nice and smooth then stir in the seasoning salt until well combined.
Heat about 2 inches of oil in a frying pan on medium high heat to 375 degrees.
Dip each onion ring into the batter then fry in the hot oil until golden brown on each side.
Drain on paper towels until cool enough to eat.
Organic Palm Shortening
 is my favorite oil for frying foods.  It is colorless and odorless so it doesn't effect the flavor of your food.  It is also NOT hydrogenated and contains no trans fats!  I don't fry food very often, but when I do I LOVE this healthier choice of oils.  I also use this shortening for biscuits and pie crusts, and have been nothing but overjoyed with the results!!  If you want to read more about this healthy oil click
here
.
Does anyone have any other good recipes that use lots of onions?  I planted two raised beds FULL of onions.  Soon I will have more onions than I know what to do with!
This post was shared at: Weekend Pot Luck – Simple Saturdays Blog Hop – Our Simple Homestead Blog Hop –