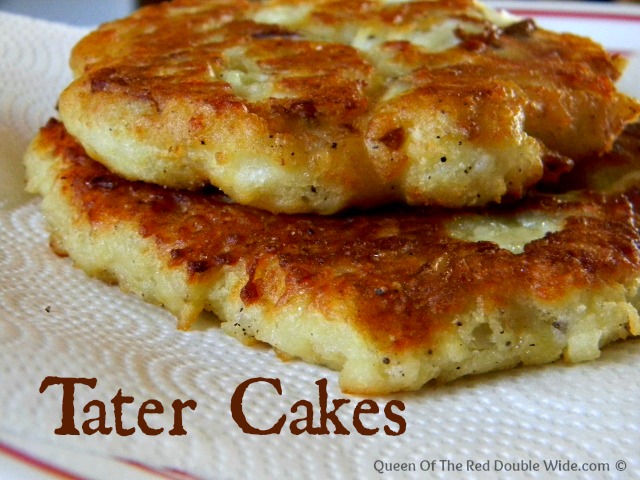 This all started on a Monday night when I was cooking a chicken for dinner.  The perfect side for a home grown, roasted chicken is mashed potatoes….or "mashies" as my girls like to call them.  I started out with a 5 pound bag of potatoes and started peeling and chopping.  While I was busy with that, the girls were struggling with some math home work and Digger was in the shop with Uncle Tom and a couple others.  As I was peeling and chopping and explaining how to figure out how many hours it would take a train to go 2,435 miles at 40 miles an hour…..Jade drove in the driveway.  At that moment I realized there are five men outside and it's almost dinner time…… What if Digger brings ALL of them in to eat with us??  I decided 5 pounds of potatoes wasn't going to cut it, so I grabbed another 5 pound bag. (intending to use 5 or 6 more taters)  Somewhere between the next three story problems, the puppy peeing on the floor, and instructing Little Chef to make a salad….my brain left and my hands kept peeling and chopping.  Before I knew it I had 10 pounds of potatoes in the pot nicely peeled and ready to boil.  So, I boiled them…then mashed and mashed and mashed…..that was a LOT of mashies!  Shortly after that, all the extra people that where hanging out in the shop went home.  Yep, ten pounds of mashed potatoes and five people.  That's how I discovered the wonderful world of Tater Cakes.  It's the perfect way to use up 7 pounds of mashed potatoes!  It still took us three days to finish them off, but no one complained a bit. 🙂
These are so fun to make and so versatile.  There are many extras you can add in and on them and they are great for breakfast, lunch, dinner, a snack, brunch, second breakfast, supper, second lunch, second dinner…..(yes, Hobbits and I have lots in common)  My point is, tater cakes taste great anytime of the day, or night.
Umm,… just so you know, I don't have hairy toes.  In case you were picturing me eating 10 times a day with hairy toes.  Just stop picturing the hairy toe part.  Okay, now that I have clarified that, we can move on to the recipe.
Start with your left over mashies and add flour, eggs, salt, pepper, and finely chopped onion.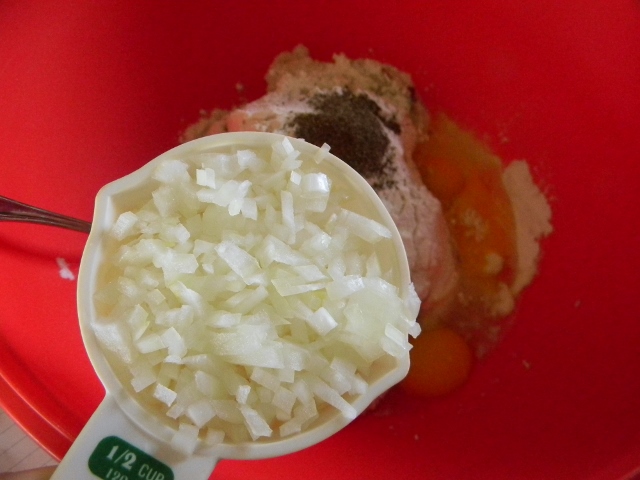 This is where you can add in any "extras"  like cheese, bacon, peppers, whatever sounds good.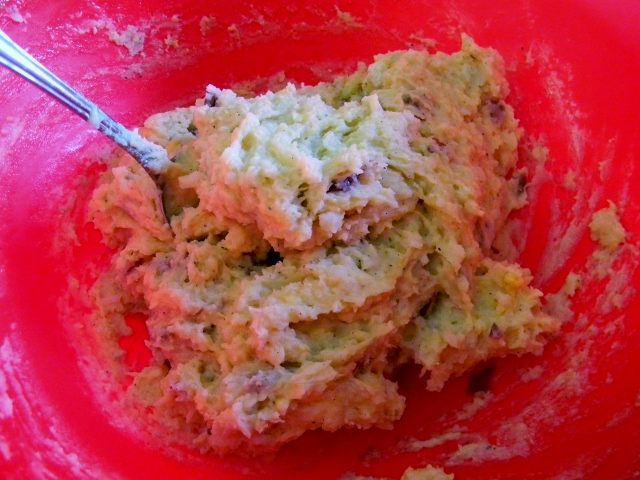 The consistency will totally depend on the mashed potatoes you added.  If it is to sticky add more flour and if it's to dry add another egg.
Take about half a cup of your mixture and form it into a patty and fry it in a bit of olive oil or butter until golden brown.  I make one and give it a taste to see if it needs more salt or pepper.  My homemade seasoning salt works great on these.
These could be served with ketchup or gravy or ranch dip or sour cream or just plain!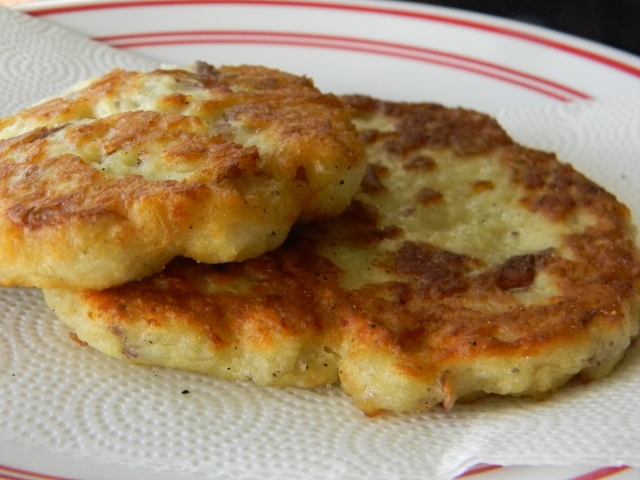 Oh yummmmm, I'm going to accidently on purpose make way to many mashies from now on. 🙂

Tater Cakes
Author:
Queen Of The Red Doublewide
Ingredients
4 cups of leftover mashed potatoes
1 cup all purpose flour (maybe more)
2 to 3 eggs
½ cup finely chopped onions (green onions work too)
salt and pepper to taste
1 to 2 cups of "extras" like cheese, bacon, peppers, etc. (optional)
olive oil or butter
toppings like: ranch dressing, gravy, ketchup, sour cream, salsa, etc. (optional)
Instructions
In a big bowl mix together the mashed potatoes, flour, 2 eggs, onions, a little salt and pepper and any extras you want to add in. Heat a skillet with a little olive oil on medium heat. Take about ½ a cup of your mixture and make a patty. It should be easy to form and not to sticky. If it's to dry add another egg and if it's to sticky add a little more flour. Fry your "patty" in the hot oil until golden brown on both sides. I always make one and then taste it to see how much more salt and pepper to add. Add the toppings that suit you and enjoy!
This Post was shared at:
The HomeAcre Hop
–
Weekend Potluck
–