This is comfort food at its best!  It's always a hit at our house and perfect for crisp, fall days.  If I had a favorite stew, this just might be it, and what better way to use up all that leftover turkey after Thanksgiving!!!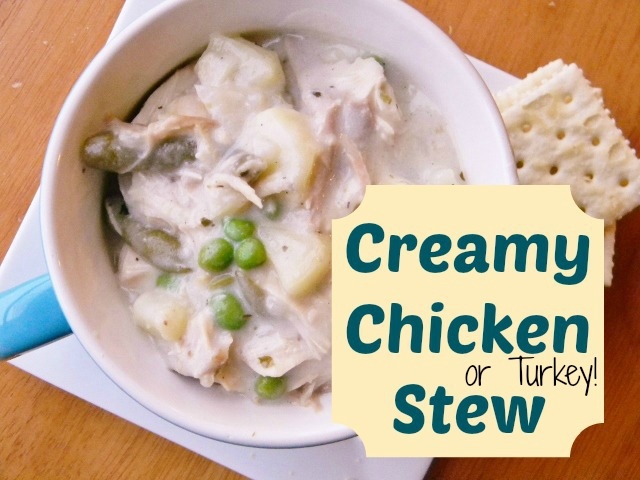 I usually make this soup a day or two after we've had roasted chicken for dinner.  I put whatever is left of the roasted chicken (bones and all) in a big pot, cover it with water and let it simmer away for a few hours.  When I pull the meat off the bone I always have more than enough chicken and chicken stock to use in this stew.  You could also use a rotisserie chicken and store bought stock.
This recipe is very versatile, you can use any combination of veggies you have on hand as long as they are cooked first.  I used leftover baked potato, green beans and peas this time.  Some other veggies I have used in this stew are: corn, carrots, halved brussels sprouts, pieces of asparagus, mushrooms and celery.  I like to go through the fridge and throw in whatever I have!  Hence the name – "Leftover Stew". 🙂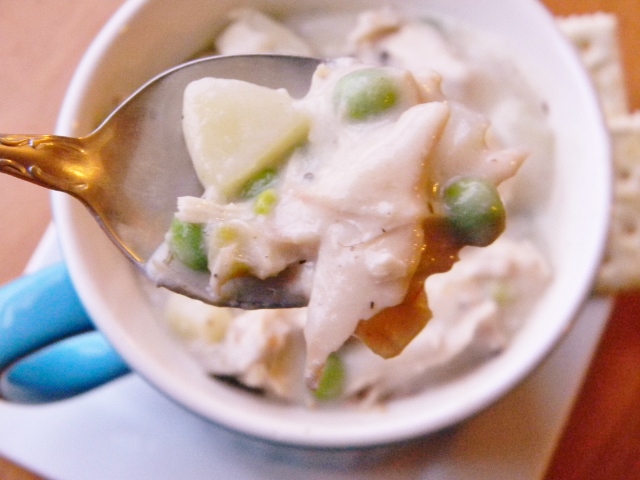 Creamy Chicken (or Turkey) Stew
Author:
Queen Of The Red Doublewide
Ingredients
4 tablespoons butter
½ cup finely chopped onion
½ teaspoon dried basil
½ teaspoon dried thyme
¼ teaspoon celery salt
¼ teaspoon garlic powder
¼ teaspoon pepper
⅓ cup all-purpose flour
1 teaspoon salt
2 cups milk
2 cups chicken or turkey stock
3 cups cooked chicken or turkey pieces
3½ cups cooked veggies of your choice(there are some ideas above)
Instructions
Start by sautéing the onion, basil, thyme, celery salt, garlic powder and pepper in the butter.
When the onions are translucent whisk in the flour and salt.
When the flour is completely incorporated, slowly whisk in the milk and chicken stock.
Bring them to a low boil to thicken.(stirring often)
Add the chicken and all the veggies and stir well.
Give it a taste and add salt and pepper if needed.
Here is my recipe for chicken soup with homemade noodles….I love soup season!