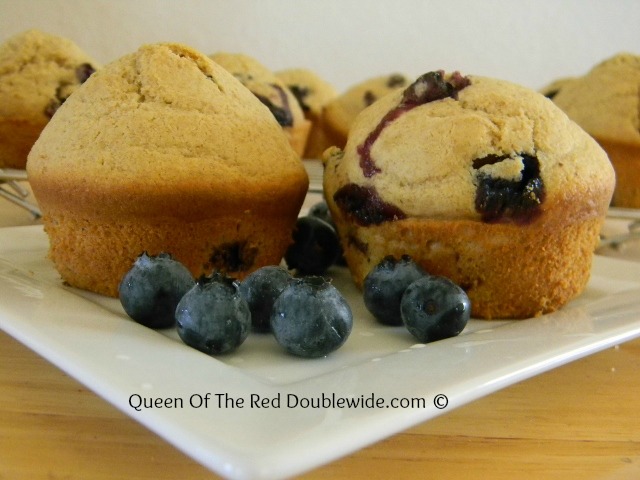 Berries seem to be everywhere right now, and muffins are a weakness of mine so we've been eating lots of them lately.  A couple weeks ago I shared a Fresh Raspberry Muffin recipe that used our homegrown raspberries.  The girls and I made several batches, but now the bushes are pretty much picked clean.  Sadly we don't have any blueberry bushes (yet), but I did find some for a very good price the other day so I bought LOTS!   I  found this blueberry muffin recipe about a month ago and they looked sooooo delicious I couldn't wait to try them!  I made a few minor alterations to the recipe and oh yum, yum, yum!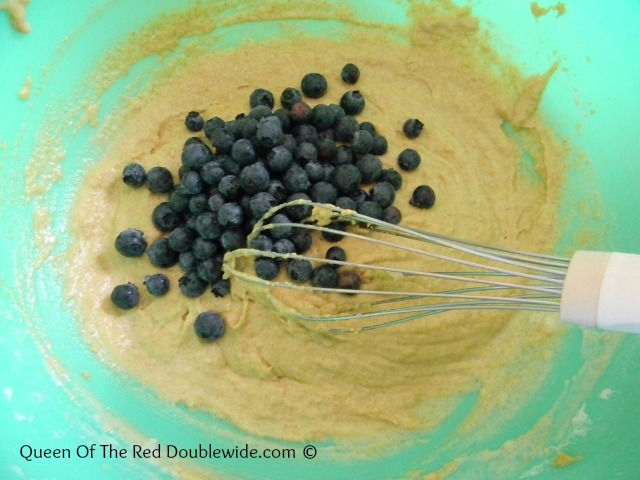 In a big bowl stir together the milk (any kind will work), melted butter or coconut oil, egg, vanilla and sugar.  Then mix in the flour, baking power, and salt.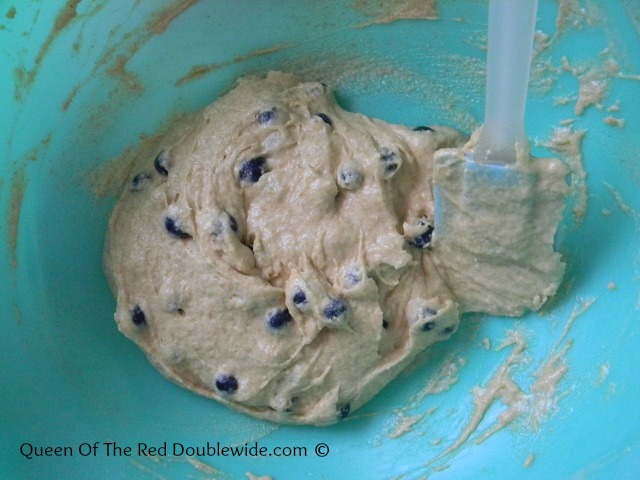 Gently fold in the blueberries.  We used fresh berries but frozen would work too. Fill greased muffin tins two thirds full (this makes about 10 muffins).  Bake at 375 degrees for 20 minutes.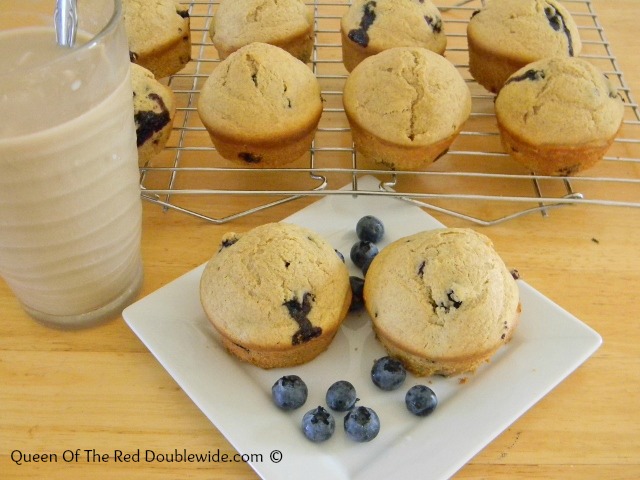 They went really well with my iced coffee. 😀

Healthy Homemade Blueberry Muffins
Author:
Queen Of The Red Doublewide adapted this recipe from Angela at Hickory Trails
Cuisine:
For breakfast or a snack
Ingredients
¾ cup milk - any kind of milk will work
¼ cup melted butter or coconut oil or olive oil if you prefer
1 egg
½ tsp vanilla extract
⅓ cup organic sugar or sucanat
¾ cup unbleached all purpose flour
¾ cup whole wheat flour
2 teaspoons baking powder
½ teaspoon sea salt
1 cup blueberries fresh or frozen
Instructions
Stir together the milk, butter, egg, vanilla, and sugar. When it's nice and smooth mix in the flours, baking powder, and salt. Then gently fold in the blueberries. Fill greased muffin tins about two thirds full. Bake at 375 degrees for 20 minutes. This will make about 10 muffins and can easily be doubled if you want more.
I'm going to make a dairy free version of these for my mom and sister by using almond milk and coconut oil.  I love recipes that you can easily substitute ingredients for people with allergies!
This recipe was adapted from Angela at Hickory Trails.  She took some amazing pictures of her muffins; you should check out her blog!