Here is the first recipe I'm sharing that uses my homemade pumpkin pie spice mix.  This is so perfect for a cool fall day, and as a bonus it will make your house smell like fall too!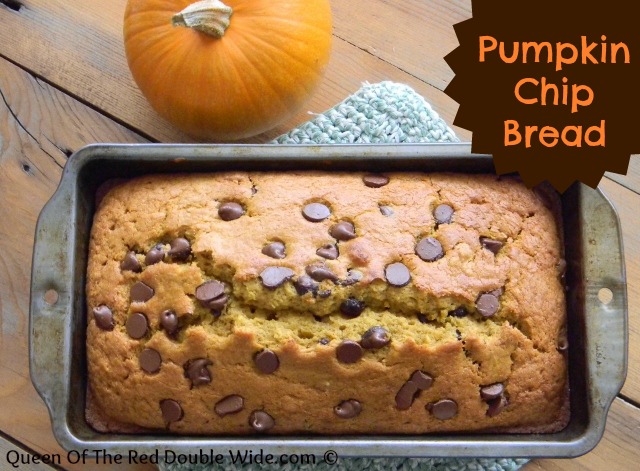 Pumpkin Chip Bread or Muffins
Author:
Queen Of The Red Doublewide
Ingredients
1 cup pumpkin puree
1 teaspoon vanilla extract
3 eggs
¼ cup plain Greek yogurt
¾ cup butter - melted
1 cup all purpose flour
⅔ cup whole wheat flour
1 cup sugar
½ teaspoon salt
½ teaspoon baking powder
½ teaspoon baking soda
1 teaspoon Pumpkin Pie Spice Mix
1 cup chocolate chips plus ¼ cup for sprinkling on top
Instructions
In a mixer or large bowl combine the pumpkin, vanilla, eggs, butter and yogurt. In a separate bowl stir together flours, sugar, salt, baking powder & soda, and Pumpkin Pie Spice mix. Pour dry ingredients into the mixer and blend well. Fold in the 1 cup of chocolate chips. Grease a loaf pan, pour batter in and sprinkle remaining chocolate chips on top. Bake at 350 degrees for 60 to 75 minutes.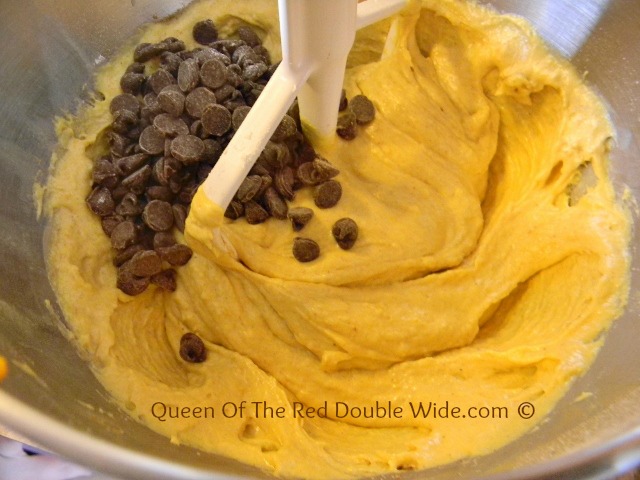 Note: If you don't have plain yogurt you could substitute sour cream and you could also substitute apple sauce for the butter.  I used organic sugar but sucanat would also work.  I also used a little less sugar and chocolate chips and it was still yummy, yummy!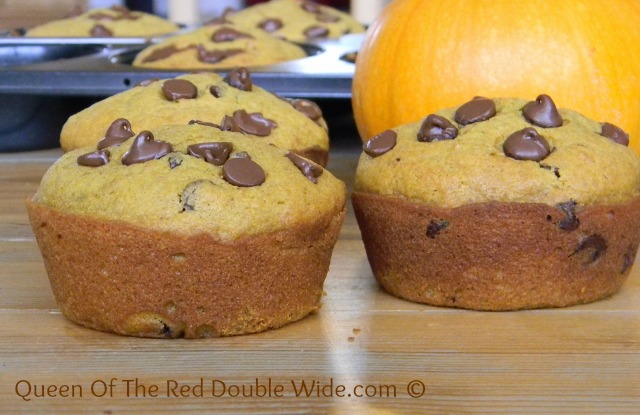 Instead of bread you can make muffins.  These are the jumbo muffins and they took about 30 minutes to get done.  The smaller regular size muffins take about 20 minutes.  Be sure to grease your muffin tins and fill them about 2/3 full…..yummm!
This recipes was adapted from: Java Cupcake